Dai Dong-Hoan Son Industrial Park
15:37 30/09/2019
Dai Dong-Hoan Son Industrial Park was established under Decision No. 1179/QD-CT of the Chairman of Bac Ninh People's Committee on July 1, 2005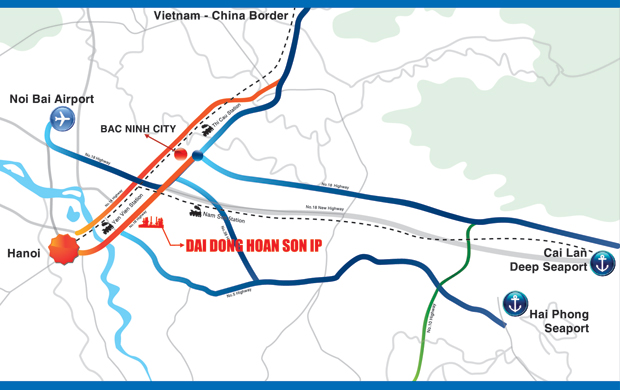 1. Location: Locates next to National Highway 1, situated near the interchanges between National Highway 1 and provincial road. About 20km from Ha Noi Capital, about 50km from Noi Bai International Airport, about 135km from Cai Lan Seaport (Quang Ninh Province), about 130km from Hai Phong Seaport (Hai Phong City), about 120km from Viet Trung Border Gate (Lang Son Province).
Infrastructure of Industrial Park are invested synchronously for construction according to international standards.
2. Planned area in phase 1: 368ha.
3. Technical infrastructure:
+ Power supply station: Power is supplied from national grid through 110/22KV transformer station with capacity of 40MVA.
+ Water supply station: Water treatment station with the first phase capacity of 5,000m3/day.
+ Telecommunication system: Telecommunication system reaches the international standard
+ Wastewater treatment: Waste water treatment station with the capacity of 5,000 m3/day.
+ Fire protection: Fire protection equipment installed along the roads in the industrial park.
4. Services: Police station, polyclinic, banks, logistic center, post office, worker house... in industrial park
5. Investment owner: Saigon Telecommunication and Technology JSC (Saigon Tel)
+ Address: No.11, Tu Xuong, District 3, Hochiminh City.
+ Address in Bac Ninh: Dai Dong – Hoan Son Industrial Park, Tien Du District, Bac Ninh Province.
+ Phone number: (84) 222 384 7628
+ Fax: (84) 222 384 7660
+ Websites: http://www.saigontel.com