Que Vo 2 Industrial Park
13:56 30/09/2019
Que Vo 2 Industrial Park was established under Decision No. 1657/QD-UBND dated December 26, 2012 of Bac Ninh People's Committee; commenced construction in March 2008.
Que Vo 2 Industrial park is a big and important industrial park of Bac Ninh province, total area of 569,4 ha with first period: 269,4 ha and second period: 300 ha which is constructed in modern architecture design inclusing: Industrial park, Entertaiment and Service Park.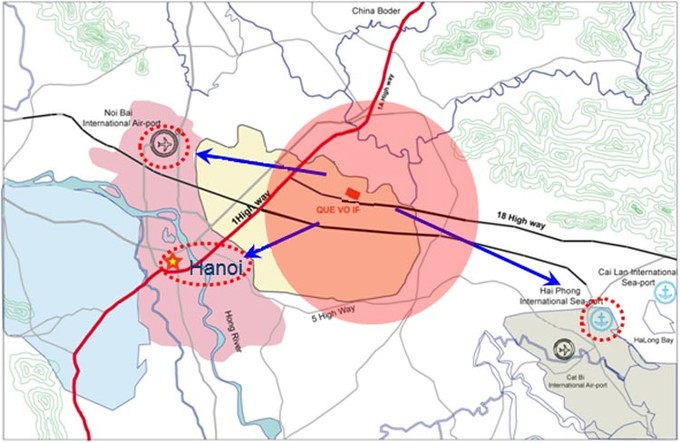 1. Location: Locates next to the National Highway 18 (the route form Noi Bai International Airport – Ha Long City, Quang Ninh Province). About 55km from Ha Noi Capital, about 70km from Noi Bai International Airport, about 90km from Cai Lan Seaport (Quang Ninh Province), about 140km from Hai Phong Seaport (Hai Phong City), about 145km from Viet Trung Border Gate (Lang Son Province).
The Industrial Park is invested synchronously in infrastructure and society according to international standards.
2. Total area: 569,4ha.
3. Infrastructure:
+ Power supply station: 220/110 Kv substation.
+ Water supply station: Water company with capacity at 20.000 m³/day.
+ Waste water: Drainage and water treatment system are built into 2 separate systems, to ensure the best environment in industrial park. Total capacity at 8.000 m3/day .
+ Telecommunication system: Modern information technology system serves the needs of communications such as telephone, Internet, cable TV, etc..
4. Investment owner: IDICO Urban and Industrial Park Development Investment JSC
+ Address: 13th Floor, Sudico Building, Me Tri Street, My Dinh 1 Ward, Nam Tu Liem District, Ha Noi Capital.
+ Phone number: (84) 24 37877937 or (84) 24 66748483
+ Fax: (84) 024 3 7877 936
+ Address in Bac Ninh: Que Vo 2 Industrial Park, Ngoc Xa Commune, Que Vo District, Bac Ninh Province.
+ Phone number: (84) 222.37347161
+ Fax: (84) 222.37347162
+ Website: idicoquevo.com.vn
+ E-mail: idico.quevo2@gmail.com