Que Vo Industrial Park
15:44 30/09/2019
Que Vo Industrial Park was established under the Prime Minister's Decision No. 1224 /QD-TTg of December 19, 2002.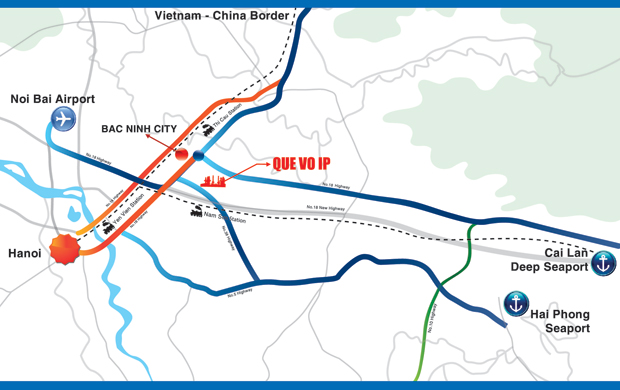 1. Location: Locates next to National Highway 18 (the route form Noi Bai International Airport – Ha Long City, Quang Ninh Province), the National Highway 1 and the railway of Ha Noi – Bac Ninh – Cai Lan port. About 35km from Ha Noi Capital, about 50km from Noi Bai International Airport, about 110km from Cai Lan Seaport (Quang Ninh Province), about 120km from Hai Phong Seaport (Hai Phong City), about 125km from Viet Trung Border Gate (Lang Son Province).
Synchronous infrastructures: Power station 110/22KV-80MVA, clean water supply station provides 6,500m3/day, the drainage system, waste water treatment, control centers, ICD inland port, system of frontage roads in National Highway 18, functional subdivision roads, center of posts and telecommunication, Banking, finance, Customs,…
In addition, planned Phuc Ninh urban with area of 120ha working for industrial park.
2. Planned area: 611ha
3. Technical infrastructure:
+ Power supply station: Power is supplied from national grid through 110/22KV transformer station with capacity of 48MVA.
+ Water supply station: Water treatment station with the first phase capacity of 6,000m3/day.
+ Telecommunication system: Telecommunication system reaches the international standard
+ Wastewater treatment: Waste water treatment station with the capacity of 6,000 m3/day.
+ Fire protection: Fire protection equipment installed along the roads in the industrial park with a distance of 150m / nozzle.
4. Services: Police station, polyclinic, banks, logistic center, post office, worker house... in industrial park
5. Total infrastructure investment capital: 1,121 billion VND
6. Investment owner: Kinh Bac City Development Holding Corporation.
+ Address: Que Vo Industrial Park, Que Vo District, Bac Ninh Province.
+ Phone number: (84) 222.3634034 or 222 3214688
+ Fax: (84) 222.3634035
+ E-mail: ntthuong@kinhbaccity.com
+ Website: www.kinhbaccity.com