Awarding the Investment Registration Certificate and signing a contract of social housing construction project
11:10 29/01/2019
On the afternoon of January 24, the provincial People's Committee held a ceremony to grant investment registration certificates and sign contracts for investment projects on construction of social houses. Attending the conference were: Nguyen Nhan Chien, Member of the Party Central Committee, Secretary of the Provincial Party Committee, Head of the Provincial Parliament Delegation; Nguyen Huu Quat, Standing Deputy Secretary of the Provincial Party Committee; Nguyen Tu Quynh, Deputy Secretary of the Provincial Party Committee, Chairman of the Provincial People's Committee; Dao Hong Lan, Alternate Member of the Party Central Committee, Deputy Secretary of the Provincial Party Committee; Nguyen Huong Giang, Member of the Provincial Standing Committee, Chairman of the Provincial People's Council; comrades in the Standing Committee of the Provincial Party Committee, Standing People's Council, leaders of the People's Committee, Fatherland Front Committee, National Assembly Delegation, representatives of the Government Office, ministries, central branches and departments
	
	
The provincial leaders witnessed signing land use contracts for investment projects on social housing construction
Bac Ninh currently has 10/16 IPs in operation, attracting 1,329 investment projects with a total registered investment capital of US $ 17.83 billion from 32 countries and territories. In which there are more than 900 active projects, creating jobs for more than 285 thousand employees, in 2018 exports reached 32 billion USD, paying 11,000 billion VND to the budget. The province is implementing 27 housing projects for workers to accommodate about 220 thousand people and 20 social housing projects to meet housing needs for about 66 thousand people. In 2018, the Department of Construction was assigned by the Provincial People's Committee to organize a wide bidding for 10 social housing projects to select investors in accordance with the Investment Law. At the conference, the provincial People's Committee signed a land use contract for 10 projects that were bidding with a total area of about 65.5 hectares, total investment capital of about 11,975 billion VND and the provincial Industrial Zones Authority granted certificates. register investment for 2 investment projects on infrastructure of the industrial zone of Yen Phong Industrial Zone 2C, total investment capital of VND 2,234 billion; VSIP II IP, total investment capital of VND 2,358 billion and 6 secondary projects include: Goertek (Hong Kong) Co., Ltd. with a total investment of USD 260 million; Deli Limited Company (China), total investment capital of 25 million USD; TSE Co., Ltd. (Korea), total investment of 19 million USD; Novatech Co., Ltd. (Korea); Cybertan Investmen Corp (UK) and Investment Level to increase capital for Anyone Co., Ltd. (Korea) from 30 million USD to 50 million USD. Thus, from the beginning of the year until now, the province has attracted investment of more than 570 million USD.
Chairman of the provincial People's Committee Nguyen Tu Quynh affirmed: After more than 20 years of construction and development, Bac Ninh is now a locality with a rapid development with many socio-economic indicators in the top, being a middle industrial development center of the whole country. Along with industrial development, the province always pays attention to the material and spiritual life of people and workers, including the implementation of the social housing development program to meet the needs housing demand for residents. The projects that are granted certificates today will be effective and contribute effectively to the socio-economic development process of the province.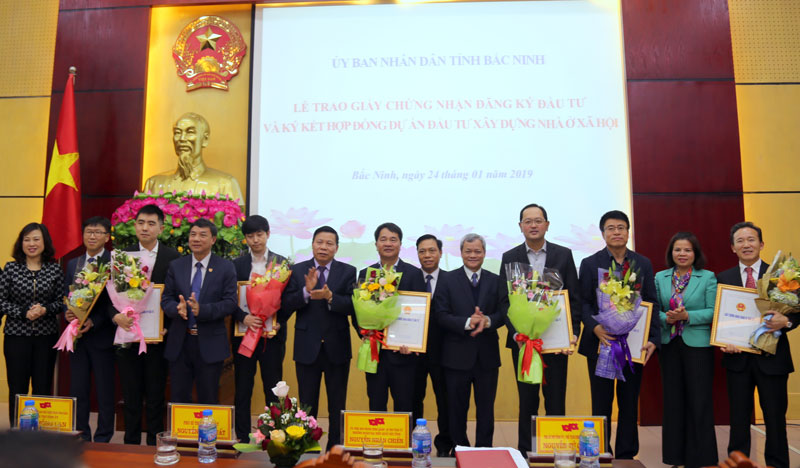 The provincial leaders congratulate the investors of projects awarded investment certificates in the area.
On behalf of the provincial leaders, the Chairman of the Provincial People's Committee praised the Management Boards of Industrial Zones, Construction Departments, Department of Natural Resources and Environment, agencies and localities to quickly complete procedures for businesses. Proposing 2 Viglacera and VSIP companies to coordinate with the Management Board of Industrial Zones, Department of Information and Communication to build 2 IPs to become models of infrastructure, attract investment, participate in the technology revolution for the first time. 4 with the model of "Smart IP" in accordance with the development of smart city of Bac Ninh province is being implemented. Enterprises investing in industrial zones continue to implement the next step to ensure progress and efficiency. For enterprises investing in social housing construction, it is necessary to ensure the quality and schedule, meeting the housing requirements for people and workers. Relevant departments, branches, localities and units according to their functions and tasks ensure the most favorable conditions for enterprises to implement projects; Considering this is not only the business but also the responsibility of state agencies to help businesses develop and help the province develop.