Service activities according to the functions and tasks of the Investment and Development Support Center of Bac Ninh Industrial Park
16:31 29/08/2019
In 2017, the Center was granted a "Certificate of Construction Operational Capacity" by the Department of Construction Operations Management - Ministry of Construction. In particular, the design and verification of structural design of industrial buildings of class I. The center has designed and verified the design for some large projects such as Seojin Auto Factory Project, Texon Project Vietnam Factory, Keyshen Vietnam Factory Project, Quang An I Industrial Joint Stock Company, Worker Housing Project of Hanoi Trading Joint Stock Company, etc. Here are the functions and tasks of the Center:
- Consulting on granting, adjusting Investment Certificate for Investors;
- Introduce industrial products, promote investment in industrial zones;
- Advise investors to develop investment policies, support administrative procedures, ...
- Consulting procedures for granting construction license, completing works; Construction supervision consultant; Verification of design of BVTC, ...;
- Construction of civil, industrial, transportation, electricity, leveling, water supply, environmental treatment works;
- Carry out the training of occupational safety and sanitation;
- Introduction and supply of food, food, industrial kitchens, uniform clothing, security services;
- Introduce qualified units, legal status to organize periodical health checks for employees;
- Linking Agents on aircraft, transporting goods and passengers by road and by air, coordinating to organize tourism for workers and workers;
- Coordinate to organize industrial hygiene for factories in the IZs;
- Surveying and measuring cadastral maps, performing the preparation of compensation dossiers for land clearance in industrial parks;
- Building information system, building website: http://kcnbacninh.com to provide recruitment information, worker inns, market prices ... to promote images for businesses in the Industrial Park ;
- Developing a newsletter of the Industrial Park issued monthly to businesses in the Industrial Park
- Perform other services in accordance with the law to support enterprises in the industrial park.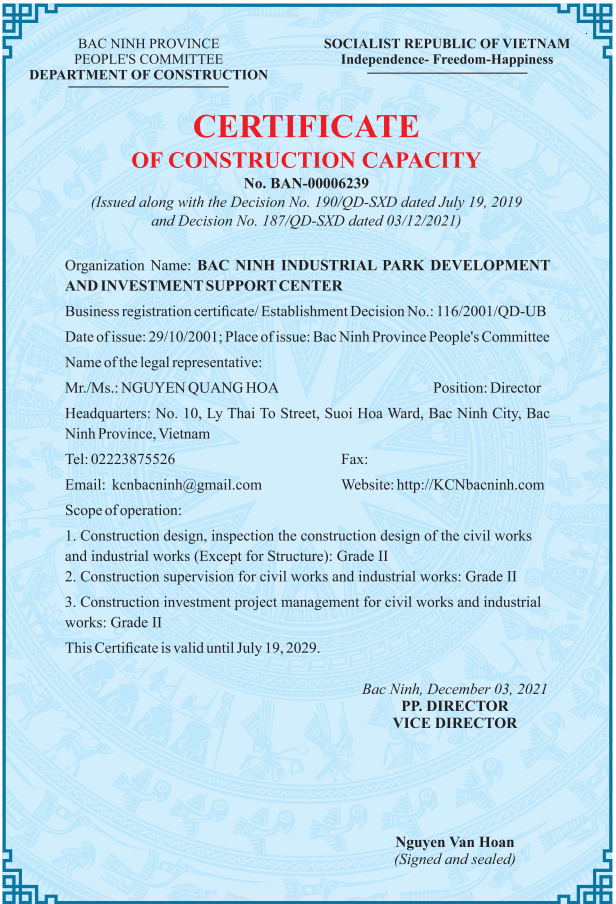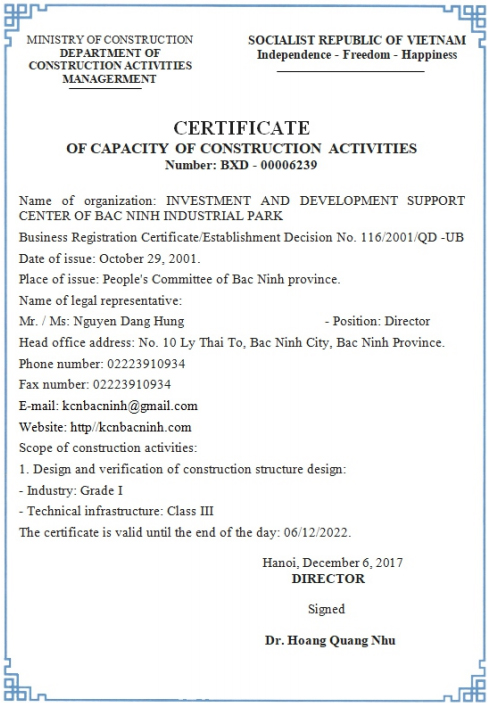 In 2019, the Center was granted a Certificate of eligibility for training of occupational safety and hygiene by the Ministry of Labor, War Invalids and Social Affairs (training for employees of groups 1, 2, 3 and 4). , 5, 6) in Decision No. 983 / QD-LDTBXH of July 10, 2019