Thuan Thanh 2 Industrial Park
10:33 27/09/2019
Thuan Thanh 2 Industrial Park was established under Decision No. 537/QD-UBND issued by Bac Ninh People's Committee on April 28, 2009.
1. Location: The industrial park located in Ho Town, nearyby National Highway 38. About 55km from Ha Noi Capital, about 60km from Noi Bai International Airport, about 140km from Cai Lan Seaport (Quang Ninh Province), about 100km from Hai Phong Seaport (Hai Phong City), about 135km from Viet Trung Border Gate (Lang Son Province).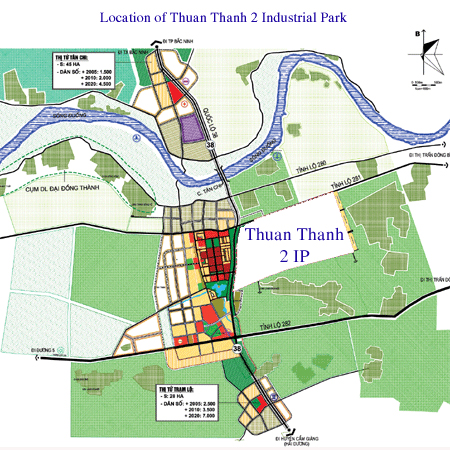 2. Planned area: 252 ha
3. Infrastructure: The Industrial Park will be invested synchronously in infrastructures, ensuring the development of industrial parks
- Traffic road: System of internal roads is built sectional reasonable ensure transport to each plant easily and conveniently. Lighting system was installed along the route
- Water: Ttotal capacity: 10.834 m3/day
- Wastewater treatment:
- Garbage disposal: Waste is taken to focus and be sorted and transported to the centralized waste treatment.
- Contact Information: Building communications center at Industrial Park area operator, Thuan Thanh Urban II near the entrance to the system control center. Expected distribution switchboard installation. Will install the single-pipe system really precise information to th
- Other add-ons: Fire prevention and fire fighting systems according to standard
4. Investment owner : Shun Far Land Deverlopment Co.,Ltd.
+ Address: Thuan Thanh 2 Industrial Park, Ho Town, Thuan Thanh District, Bac Ninh Province.
+ Phone number: (84) 222.3778688
+ E-mail: Shunfarland@gmail.com