Chairwoman Nguyen Huong Giang attends Investment Promotion Conference with Taiwanese electronic enterprises
09:03 20/04/2023
On April 17, Ms. Nguyen Huong Giang, Deputy Secretary of the Provincial Party Committee, Chairwoman of the Provincial People's Committee attended the Investment Promotion Conference with Taiwanese electronic enterprises (China).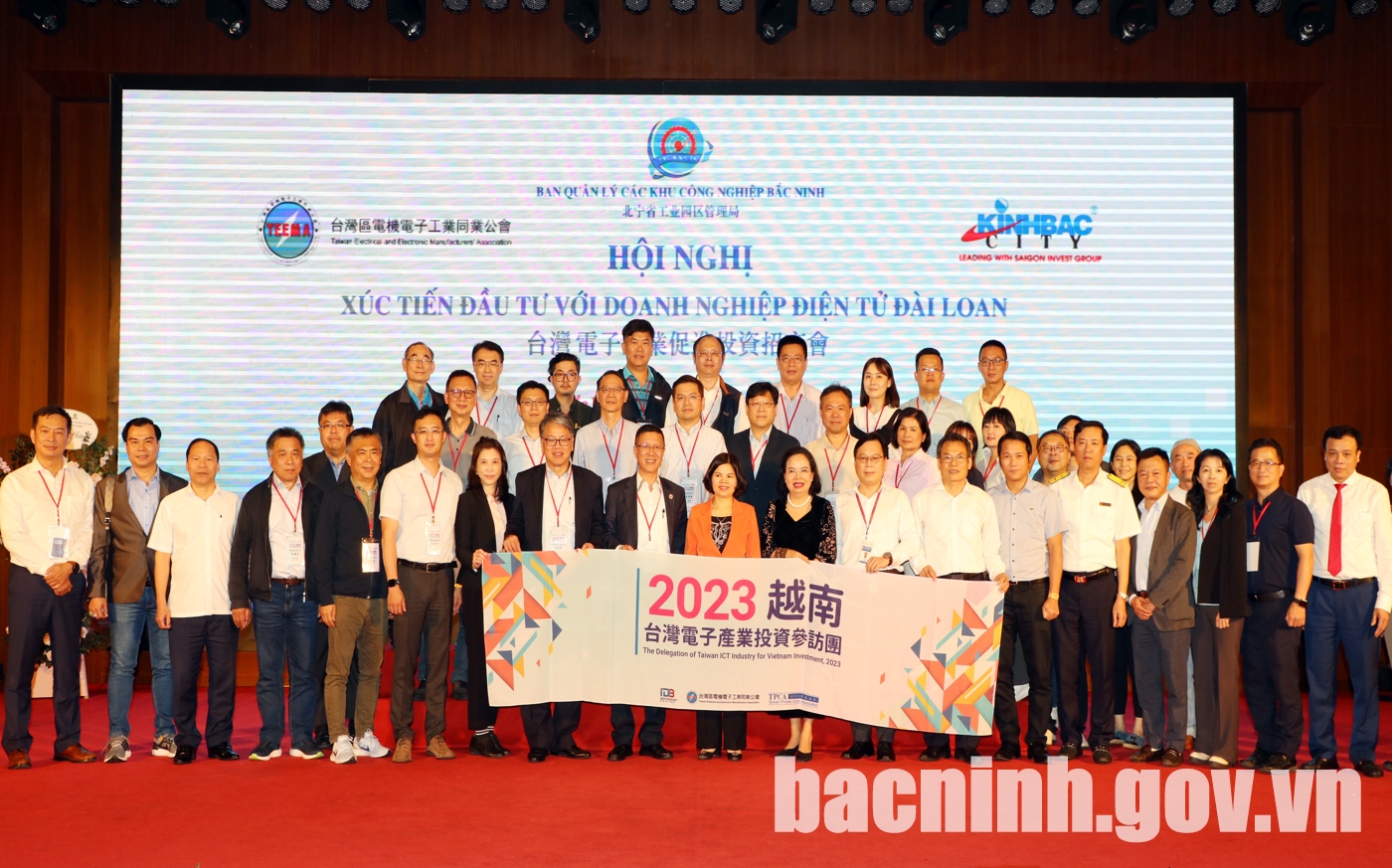 Chairwoman Nguyen Huong Giang (in middle with orange shirt) and leaders of functional departments and agencies took photos with Taiwanese electronic enterprises.
Also attending the conference were representatives of Foreign Investment Department (Ministry of Planning and Investment), leaders of relevant departments and branches; 10 Taiwanese enterprises have successfully invested in Bac Ninh and 42 enterprises studied and researched about investment in the province.
Bac Ninh province currently has 86 projects of Taiwanese enterprises with a total registered capital of about USD 666 million, creating jobs for about 20,000 workers inside and outside the province. Taiwanese enterprises always comply with the law, fully pay taxes according to regulations and effecient operation in the province, thereby, actively contributing to the socio-economic development of Bac Ninh.
At the Conference, Taiwanese businesses were informed about the socio-economic development situation; strengths, potential as well as policies for investment attraction of the province; industries that the province orients to attract investment; introduce industrial parks that investors are interested in.
Representatives from functional departments and branches directly answered issues related to investment locations, investment order and procedures, construction permits; clean energy development strategy of the province; ability to supply electricity for production; environmental regulations...
Chairwoman Nguyen Huong Giang emphasized: With a favorable geo-economic position, a safe, friendly and attractive business environment, and the success of FDI enterprises, the selection of Bac Ninh to be Investment of Taiwanese enterprises in particular and FDI enterprises in general is the right direction, creating many opportunities and potential for development. Especially, in the current context, Bac Ninh province is a bright spot to attract investment and is the center of industrial development of Vietnam.
Ms. Giang is committed to strengthening administrative reform; building a safer and more attractive investment environment; more transparent and favorable for investors. At the same time, she also stress that Bac Ninh always accompanies and considers foreign-invested enterprises as an integral part of the economy, the province will promptly listen and remove all difficulties and obstacles of enterprises. .
Giang believed that with the determination of enterprises, along with the support of Bac Ninh province, especially the decisive role of the representative of Taiwanese enterprises leaders, in the coming time, Bac Ninh province will received positive results in terms of investment attraction.