Secretary Nguyen Anh Tuan receives and works with General Director of Landel Energy Company (Korea)
16:54 31/12/2022
On December 24, Secretary of the Provincial Party Committee and Head of the Provincial Delegation of National Assembly Deputies Nguyen Anh Tuan received and worked with Mr. Cho Sung Jin, General Director of Landel Energy Company (Korea) to explore investment opportunities in Bac Ninh province.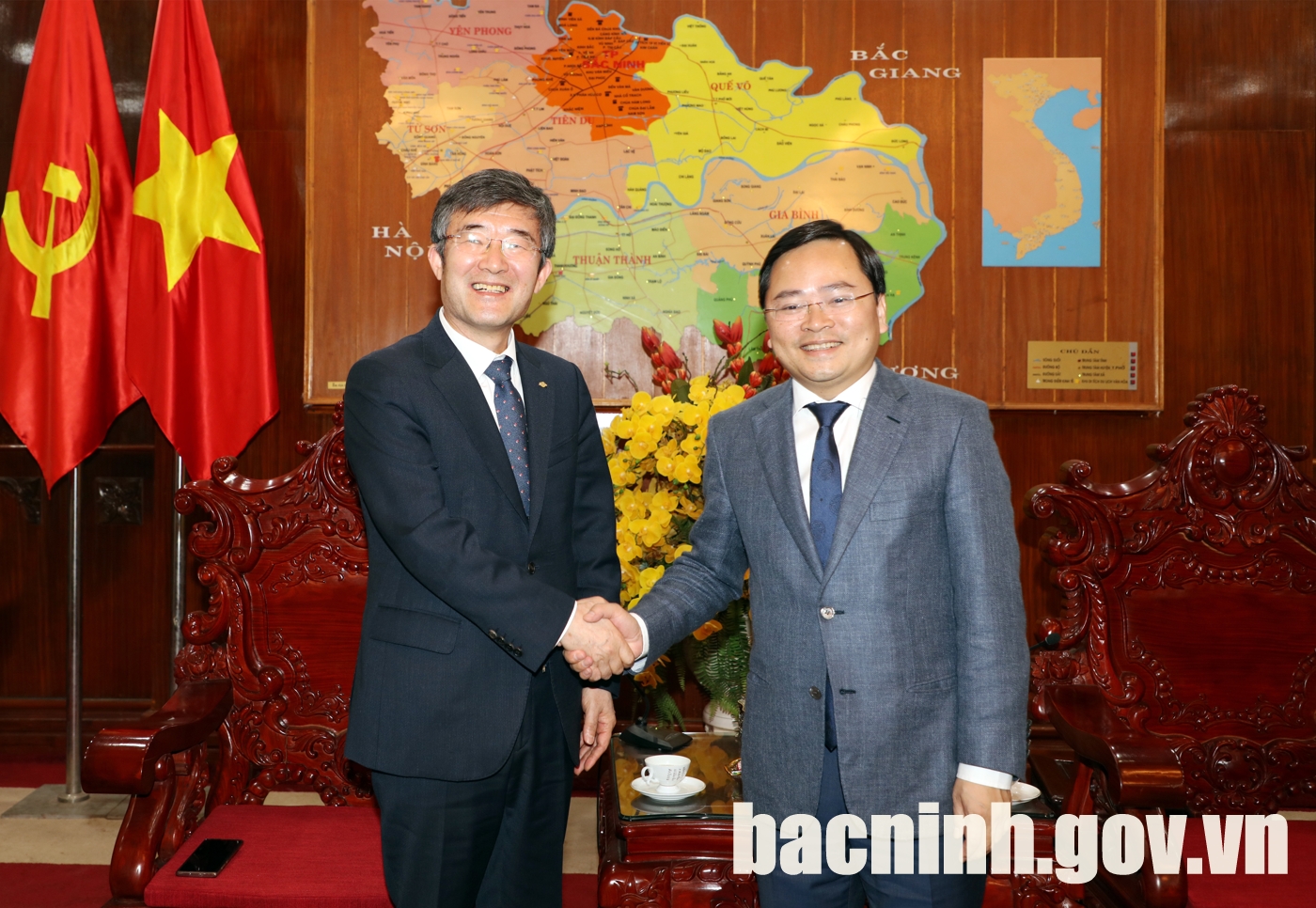 Secretary of the Provincial Party Committee Nguyen Anh Tuan welcomes Mr. Cho Sung Jin to visit and learn about investment in the province.
Participants at the meeting were Mr. Vuong Quoc Tuan, Standing Vice Chairman of the Provincial People's Committee; leaders of a number of relevant departments and sectors.
At the meeting, Mr. Cho Sung Jin thanked the provincial leaders for spending their time to welcome him. At the same time, he said that Landel Energy Company is an enterprise specializing in the production of batteries and cyclic generators with a service life of from 10 to 20 years, contributing to saving electricity consumption in businesses and households, thereby reducing pressure on hydropower, thermal power and new energy industries. Currently, the company's products have been used in 11 countries around the world.
Mr. Cho Sung Jin wished the provincial leaders to facilitate the Company to pilot the use of circulating generators in Bac Ninh from January 2023. After 02 months, the Company will evaluate the effectiveness, so as to study and build the factory in the province.
For his part, Secretary Tuan highly appreciated the Company's products in saving energy use. He also quickly informed about the potentials, advantages and attractive investment environment of the province in recent years. With a favorable geopolitical position, synchronous transport infrastructure, an abundant and highly qualified workforce, and a stable power source for industrial production, up to now, Bac Ninh has become the industrial center of the country.
With the motto "Bac Ninh always accompanies businesses", the Secretary assigned the Provincial Industrial Zones Authority to act as the focal point to connect, support and create the most favorable conditions for the Company to pilot in the province.
bacninh.gov.vn