There is a support package for businesses and workers who lose their jobs right before Tet
08:30 31/12/2022
It's a short time from now to the Lunar New Year, so if the policy to support businesses and workers affected by jobs is not fast and timely, it will cause concern for workers. So that even though "the whole year may have unhappy time, but trying to make Tet not sad", according to the leader of the Vietnam General Confederation of Labor...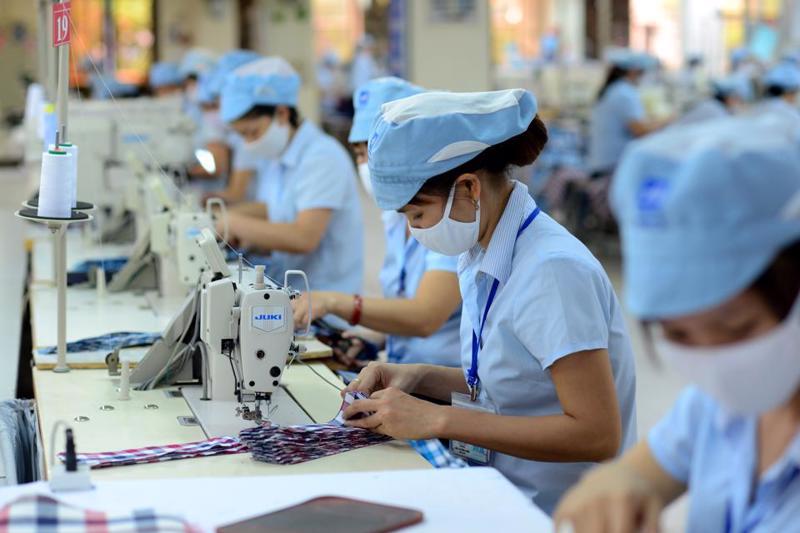 Leaders of the Vietnam General Confederation of Labor shared the above information at the Seminar on Employment of employees in the context of businesses lacking orders - Current situation and solutions, held on the afternoon of December 8, 2022.
EMPLOYMENT DIFFICULTY, ONE-TIME SOCIAL INSURANCE WITHDRAWAL CAN INCREASE
As one of the localities with a large number of affected workers, Mr. Dang Tan Dat, Head of Policy Department, Labor Confederation of Binh Duong Province, said that up to now, the province has about 240,000 workers being reduced working hours, about 30,000 workers temporarily being suspended the contract. According to Mr. Dat, it is really difficult for those suspended labor contract, because in the short term, contract can be suspended for 3-4 months, but it is forecasted that by 2023, the number of employees whose contracts are suspended may be higher due to disruption of supply chains.
Therefore, Mr. Dat said that, the immediate support policy is needed, but the long-term basis is still to ensure income-generating jobs for workers.
In Dong Nai, a representative of the Provincial Labor Confederation also informed that the lack of orders from businesses in the area currently mainly occurs in textile, garment, and wood processing enterprises. In the first and second quarters of 2023, the shortage of orders will continue. According to statistics, the whole province has about 187 businesses that have to reduce working hours and face difficulties in orders, resulting in more than 62,700 employees' job being affected; about 5,000 employees being suspended labor contracts.
In Ho Chi Minh City, according to the report of the City's Federation of Labor, about 108,000 workers were affected by their jobs, of which the most were reduced working hours, extended work without overtime; about 6,000 people lost their jobs. Notably, among the affected workers, there are about 40,000 workers over 35 years old, about 8,000 workers are pregnant and raising children.
Representative of the City Confederation of Labor said that, in the near future, businesses may continue to face difficulties in the first and second quarters of 2023, leading to many workers affected by underemployment and income reduction. "With this difficult situation, the one-time withdrawal of social insurance will increase, their interests will be severely affected, especially the regime for vulnerable workers, pregnant workers and those are rasing small children," he said.
SUPPORT POLICY FOR BOTH BUSINESS AND EMPLOYEES MUST BE FAST ENOUGH
Compared to the southern localities, businesses in Hanoi may suffer less from the drop in orders, but Mr. Nguyen Dinh Thang, Vice Chairman of the Trade Union of Industrial Parks and Export Processing Zones in Hanoi informed that: Believe that, up to now, these businesses are also gradually "absorbing" the impact.
"At this time in previous years, workers often had to work overtime to ensure orders, but now the overtime is no longer available. This has had a huge impact on workers' incomes," Mr. Thang said, adding that in the past, in order to achieve an income of between 8-9 million dong, workers had to work overtime, but now it's not happen.
According to a quick report of the grassroots trade union, Hanoi currently records more than 2,000 workers affecting their jobs, mainly in the electronics and component manufacturing industries, but mainly the extent of the impact is "not working overtime".
The difficult situation is more evident in the textile and garment industry. According to Ms. Hoang Thi Thu Hong, Vice President of the Hanoi Textile and Garment Trade Union, this is a very difficult time, because although this unit is managing about 20,000 employees, but it has recorded that the number of businesses with orders until the end of the first quarter of 2023 is very little, mainly having orders until the end of December 2022. This is also a time when many units are having to relax, and use all their resources to keep workers.
According to Ms. Hong, according to statistics, currently, Hanoi's textile and garment industry has 4 units that owe salaries to employees, including 2 foreign enterprises. Industry unions are coordinating with the city's police force to control that foreign business owners owe salaries but have not returned home.
"Hanoi had a business owner who returned home for Tet holiday and did not come again, the problem is that the owner of this business does not authorize anyone, the property cannot be liquidated. Currently we are trying to close the insurance book for 124 employees of this unit, so that they can find other jobs, but the salary debt cannot be solved," said Ms. Hong.
Before the reflections from localities and units, Mr. Ngo Duy Hieu, Vice Chairman of the Vietnam General Confederation of Labor admitted that the difficulties of workers today are the most concerning issue, especially when Tet is near. Because it not only affects the life and awareness of workers but also threatens to affect social order and safety if it is not resolved thoroughly.
"More than ever, it is necessary to have timely supportive policies, because support is not only to nurture labor resources but also to develop businesses. If many businesses are wiped out, both enterprises and the whole economy will it be a loss," emphasized Mr. Hieu.
According to Mr. Hieu, supportive policies should be directed to both businesses and employees, both retaining employees and helping businesses maintain and survive, until the situation gets better. "We want to have both short-term and long-term policies, policies related to social security such as social insurance, investment attraction, market search, science and technology innovation, and professional training…", Mr. Hieu said and empasize that the trade union organization will discuss with the Ministry of Labor, War Invalids and Social Affairs, and with relevant units to agree and report to the Government.
"From now until the Lunar New Year is still very close, if the policy is not fast and not timely, it will cause concern for employees. The whole year may have unhappy times, but trying to make nobody be said on Tet holiday, so the policy not only brings benefits to businesses, but also be the trust of employees with the state," he said more.
Translated by Nguyen Mai Huong