Chairwoman Nguyen Huong Giang receives Deputy Ambassador of Kingdom of Netherlands in Vietnam
09:06 20/04/2023
On April 13, Ms. Nguyen Huong Giang, Deputy Secretary of the Provincial Party Committee, Chairwoman of the Provincial People's Committee received and worked with Chargé d'affaires deputies Christoph Prommersberger, Deputy Ambassador of the Kingdom of the Netherlands in Vietnam to visit and work in Bac Ninh.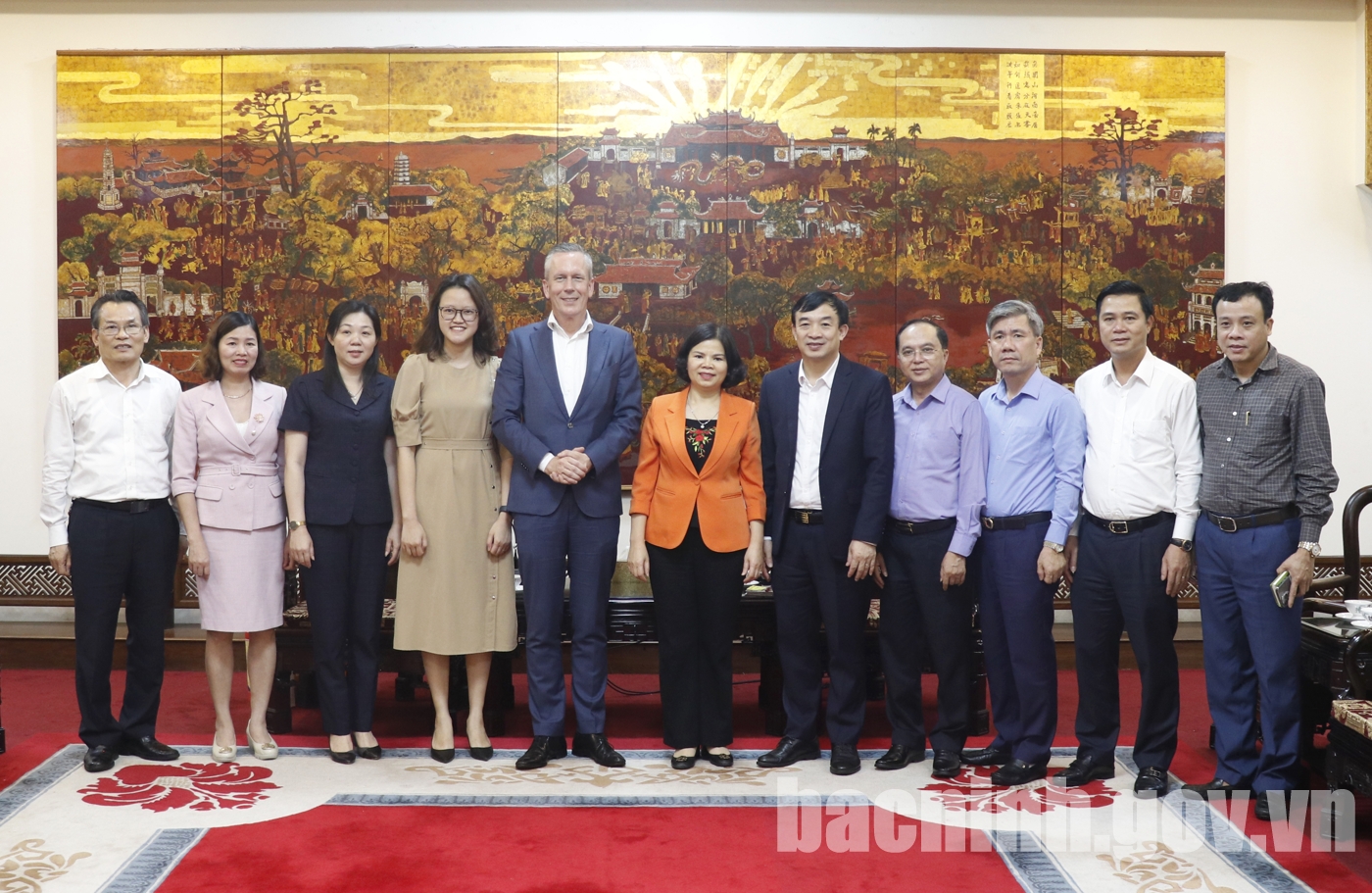 Chairwoman Nguyen Huong Giang (6th from left) and Chairman of Provincial Fatherland Front Committee Nguyen Dinh Loi (5th from right) took photos with Mr. Christoph Prommersberger.
Also receiving the delegation were Mr. Nguyen Dinh Loi, member of the Standing Committee of the Provincial Party Committee, Chairman of the Provincial Fatherland Front Committee; leaders of a number of departments, branches and localities.
At the meeting, Chairwoman Nguyen Huong Giang briefly informed about the outstanding achievements in socio-economic development of the province in recent years. Currently, the province has 04 investment projects of Dutch enterprises with a total capital of about USD 138 million. Dutch enterprises in the province mainly produce health care products, civil products, soft drinks...
With the background of the diplomatic relationship between the two countries and the strengths of each side, Ms. Giang wished the Deputy Ambassador to pay attention, support, and be a bridge to promote cooperation and development between enterprises of the Netherlands and Bac Ninh province in the coming time, thereby, towards the formation of a high-tech electronic cluster in Bac Ninh province.
Giang also said that in May 2023, Bac Ninh province will have a working delegation in the Netherlands to promote investment, trade, tourism and cultural exchanges… She hoped that, during the mission's working time in the Netherlands, the Deputy Ambassador will support Bac Ninh province to organize a talk show with a number of Dutch businesses.
Sincerely thanking the respectful reception of the provincial leaders, Mr. Christoph Prommersberger expressed his impression of Bac Ninh's socio-economic development and foreign investment attraction. At the same time, briefly introduce the Netherlands with many similarities with Bac Ninh province.
With the strength in high-tech agriculture and clean energy, the Deputy Ambassador hopes that in the coming time there will be many new investment segments between Bac Ninh province and Dutch businesses. At the same time, he affirmed that he would be willing to support investment activities of Dutch enterprises in Bac Ninh and connect the province with focal points and businesses in the Netherlands on issues of concern to the province, especially on renewable energy, contributing to bringing the province to the top of the provincial green index in the coming time.
bacninh.gov.vn