40 new projects in industrial zones come into operation
08:37 31/12/2022
Since the beginning of the year, in Bac Ninh industrial zones, 40 new projects have come into operation, bringing the total number of projects into operation to 1,190 projects.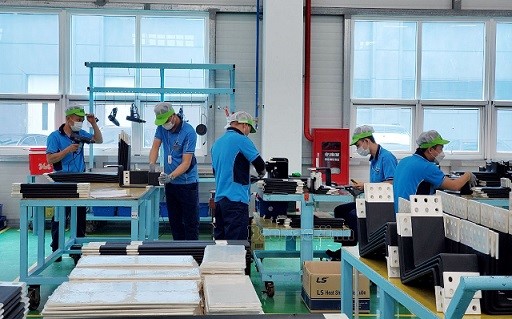 LS Electric Vietnam factory with a total investment of 25 million USD (expanded Yen Phong Industrial Park) went into operation from October 2022.
During the year, the Bac Ninh Industrial Zones Authority has effectively implemented the management of production and business activities for industrial park enterprises; promptly solved difficulties and problems of enterprises; coordinated with relevant units to promptly solve the proposals and problems of enterprises related to electricity supply, water supply, land lease, incentives, disputes over land lease contracts, factory lease... Therefore, the planned targets have been achieved and exceeded by about 7-10%. Enterprises in the industrial zones created industrial production value of 1,425,036 billion dong (10% higher than the plan and 15% higher than in 2021); export value is estimated at 41.1 billion USD (surpassing 11% of the plan and increasing 17% compared to 2021); import value is estimated at 33.69 billion USD (over 32% of the plan and up 23% compared to 2021).
The Bac Ninh IZA implemented the termination of operation of investment projects and revoked investment licenses, investment certificates, investment registration certificates (GPĐT/GCNĐT/GCNDKĐT) for 36 projects, with total registered investment capital of 102.78 million USD. Accumulated up to now, 344 projects have been terminated and withdrawn with a total registered investment capital of more than 1.346 billion USD./.
Translated by Nguyen Mai Huong