Luxembourg enterprises want to invest in Vietnam
08:31 31/12/2022
During Prime Minister Pham Minh Chinh's visit to Luxembourg, many businesses said they wanted to expand cooperation and investment with Vietnam in fields such as iron and steel, green economy, healthcare, tourism...
On the afternoon of December 9, 2022 (on the same evening, Vietnam time), during the official visit to Luxembourg, Prime Minister Pham Minh Chinh had a series of activities to promote economic cooperation between the two countries such as attending the Vietnam - Luxembourg Business Forum, worked with several large economic groups.
At the forum, President of the Luxembourg Chamber of Commerce Carlo Thelen said that Vietnam is now the country's ninth largest trading partner outside the EU. In recent years, the two countries' trade turnover has grown impressively. According to Mr. Carlo Thelen, Vietnam, with a market of 100 million people, an abundant labor force, has great potential to become a manufacturing and manufacturing center.
Mr. Carlo Thelen and Luxembourg Minister of Small and Medium Enterprises and Tourism Lex Delles both highly appreciated the possibility of expanding bilateral cooperation in the field of tourism. "I am very impressed with the slogan of Vietnam tourism is Vietnam - Hidden beauty and believe that the two countries have potential for tourism cooperation in the future," said Carlo Thelen.
At the forum, Prime Minister Pham Minh Chinh spent time analyzing the development background of Vietnam; Vietnam-Luxembourg relations; what needs to be done to further promote bilateral relations, especially in trade and investment.
According to him, Vietnam maintains political stability, social order and safety, protects independence, sovereignty and territorial integrity so that companies and corporations can feel secure when investing in Vietnam. In addition, Vietnam will also improve institutions, ensure that investors have an open and favorable operating environment, reduce administrative and logistics costs.
Vietnam wishes to mobilize resources by means of public-private cooperation in the spirit of harmonizing benefits, sharing risks among the state, investors and people; attracting high technology, technology in emerging industries such as digital transformation, green transformation, circular economy, innovation, knowledge economy...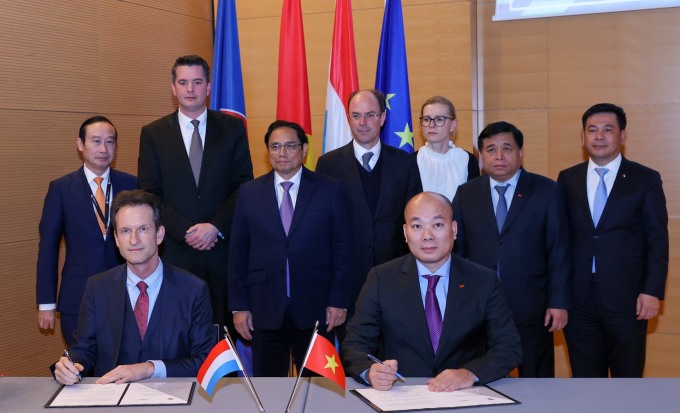 Prime Minister Pham Minh Chinh and officials of both sides witnessed the ceremony of signing and handing over cooperation agreements between agencies and businesses. Photo: Nhat Bac
The Vietnamese government leader said it was very impressive that Luxembourg had "go ahead and take the lead", promoting its distinct potential to move from an agricultural country straight to service development, finance and banking, and green economic development, digital economy, climate change adaptation. "Luxembourg can share experiences with Vietnam in these areas in particular and the country's development process in general," Chinh said.
At the end of the program, Prime Minister Pham Minh Chinh and officials of the two sides witnessed the ceremony of signing and handing over cooperation agreements between agencies and businesses. Luxembourg currently has 58 valid projects with a total registered capital of more than $2.6 billion, ranking 17/141 among countries and territories investing in Vietnam and being the third largest investor of the EU in Viet Nam.
Also at the headquarters of the Luxembourg Chamber of Commerce, Prime Minister Pham Minh Chinh received leaders of Paul Wurth, B-Medical Systems and CargoLux.
Paul Wurth (1870) is a member company of SMS - a large Luxembourg corporation providing metallurgical technology on a global scale. Company leaders said that they are planning to expand investment in the iron and steel industry in the direction of green and clean development and promote cooperation with Vietnamese businesses. The objective is to find steel suppliers and strengthen the capacity of electronic automation in the steel industry.
The Prime Minister welcomed Paul Wurth's proposal and plan to expand business investment in Vietnam. He suggested that this business develop in the direction of reducing environmental impact and towards a green and clean economy, contributing to promotion of Vietnam's carbon neutrality goal by 2050.
"Vietnam's policy is to attract and cooperate foreign investment selectively, taking quality, efficiency, technology and environmental protection as the main evaluation criteria," Mr. Chinh said.
Leaders of B-Medical Systems (1979) - a large Belgian corporation in medical technology and pharmaceuticals, proposed to strengthen cooperation with the Ministry of Health and the Central Institute of Hygiene and Epidemiology, to support Vietnam in cold storage equipment in the preparation and response to future epidemics. This idea was welcomed by Mr. Chinh because Vietnam is a tropical monsoon country with many diseases. Investors in research and production activities of vaccines and pharmaceutical industry development will also receive many incentives from Vietnam.
Leaders of Luxembourg's Cargolux (1970) group on air transport (one of Europe's largest cargo airlines) reported to the Prime Minister an agreement on cooperation with Vietnamese enterprises and problems related to technical regulations on operation of heavy aircraft at Tan Son Nhat airport. This field of cooperation was also welcomed by Prime Minister Pham Minh Chinh and said he would direct agencies to quickly solve existing problems, in which the overloading of the runway at Tan Son Nhat has been directed to solve. .
Vietnam has established diplomatic relations with Luxembourg since 1973. Economic, trade, education and training cooperation between the two countries has continuously developed over the past 50 years. Luxembourg is considered a global financial center and the headquarters of the world's leading financial investment funds.
Prime Minister Pham Minh Chinh arrives in Luxembourg, starting his official visit to the country from December 9. He will also visit the Netherlands, Belgium and attend the Summit to celebrate the 45th anniversary of ASEAN-EU relations in Brussels, Belgium on December 14.
Translated by Nguyen Mai Huong