Export turnover increased by 9.7% over the same period in 2019
09:15 05/02/2020
Despite the impact of the Covid-19 epidemic on import and export activities, the province's merchandise export turnover still increased significantly over the same period in 2019.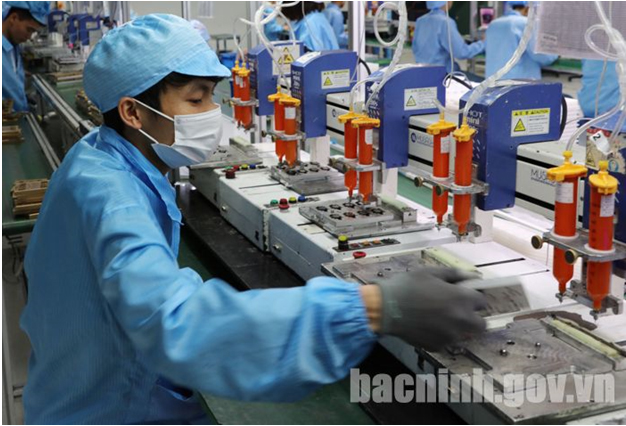 The export turnover of the FDI sector accounts for 99%.
According to the report of the Department of Statistics, the province's export turnover in April was estimated at $2,256.1 million, down 30.2% from the previous month, but still up 12.2% over the same month last year. In particular, the export turnover of the FDI sector reached $2,213.4 million, accounting for 99%, down 30.5% and up 10.4%.
Accumulated 4 months, export turnover reached $10,304.9 million, up 9.7% over the same period last year. In which, the FDI sector reached $10,202.9 million, up 8.9%.
In the opposite direction, April import turnover was estimated at $1,885 million, down 23.9% over the previous month and 17.4% lower than the same month last year.
Accumulated 4 months, total import turnover is estimated at $9,000 million, up 21.6% over the same period last year. In which, the FDI sector reached $8,772 million, accounting for 99.4% of the total turnover and up 20.1%.
A favorable business environment promotes production recovery and economic growth
Every year, provincial leaders directly dialogue and exchange with businesses in order to innovate and elevate their thinking in policy formulation. This is a solid foundation for Bac Ninh to increase 11 places in 2019 (ranked 15th in 2018), to 4th nationally in the provincial competitiveness index and be evaluated and ranked very well operating.
The Provincial Competitiveness Index (PCI) was jointly developed by the Vietnam Chamber of Commerce and Industry (VCCI) and the United States Agency for International Development (USAID) from annual enterprise survey data, with the largest scale, the most elaborate implementation in Vietnam today. PCI is the "voice gathering" of the private business community about the business environment in the provinces and cities; is an index measuring and evaluating the quality of economic governance, the convenience and friendliness of the business environment and administrative reform efforts of the provinces and cities nationwide.
Recognizing the importance of improving the business environment, every year, Bac Ninh coordinates with the Legal Department - VCCI to organize a seminar to analyze the PCI Index and make an action plan associated with Resolution 02 of the Government on improving business environment, promoting FDI attraction, and supporting small and medium enterprises.
In particular, provincial leaders are always determined to act and regularly take initiatives to improve the business environment such as: Enterprise Doctor Model; to establish the district and provincial Public Administration Center; to publish the Competitiveness Index at the provincial, sectoral and district level (DDCI) annually; to publicize the inspection plan on the Portal for enterprises to know; to apply information technology and build smart cities; to develop a small and medium enterprise support scheme up to 2025; to develop services for industrial zones – firstly linkage between multinational corporations and provinces to develop supporting industries with the important role of Samsung Group. Only in 2019, provincial leaders held 2 dialogues, the Taxation and Customs sector held 4 dialogues with enterprises to discuss solutions to solving difficulties for production and business.
With the efforts of reform and creativity in management and management, in 2019, Bac Ninh made great progress, reaching 4th on the National PCI Rankings with 70.79 points (up 6.29 points and 11 levels compared to 2018), in the group of 5 provinces with very good PCI ratings. This can be an important driving force for Bac Ninh to continue implementing new ways to restore production and business, and promote economic growth.
Component indexes of PCI Bac Ninh in 2019:
8/10 indexes increased compared to 2018, including: Access to land reached 7.55, an increase of 1.16 points; Transparency reached 7.02, an increase of 1.17 points; Time cost reached 7.23, an increase of 0.11 points; Unofficial expenses reached 7.24, an increase of 1.92 points; Equal competition reached 7.51, an increase of 2.21 points; Dynamic features reached 7.34, an increase of 1.35 points; Business support services reached 6.62, up 0.1 points; Legal institutions reached 7.91, an increase of 1.85 points.
2 indexes decreased, including: Entering the market reached 6.88, down 0.34 points; Labor training reached 7.03, down 0.66 points.
The government has created, accompanied with enterprises, drastically improving the business environment, helping Bac Ninh achieve important results. In 2019, compared to the whole country, Bac Ninh has the 7th largest economy; GRDP per capita ranks second; income per capita ranks 5th; industrial production value ranks first ... Many indicators in the field of education and health are in the leading group. Many social security policies have gone ahead and implemented at a high level compared to the whole country.
In the first months of 2020, although the COVID-19 epidemic caused many difficulties, the economy in the first quarter of Bac Ninh was quite impressive with the growth rate of 5.9%; industrial production increased by 8.2%; the IIP index increased by 9.5%; food production and processing by 8%; beverage production by 13.6%; textile and garment increased 37.6%; machinery and equipment production by 20.6%; manufacturing electronic products was the industry with the largest proportion, up 12.2%; attracting foreign investment with a total newly registered capital, adjusted, contributed capital, purchased shares reached more than 280 million USD; total import and export turnover reached more than 15 billion USD. Budget revenue reached 31.3% of the yearly estimate.
The important highlight is that the Bac Ninh PCI Index is raised with many factors of the business environment recognized by FDI enterprises such as the reduction in unofficial costs, time costs, and pioneering dynamism. That has helped the province become a bright spot for FDI attraction. Accumulatively by the end of April 20, 2020, the province has granted investment registration for 1,566 valid projects with the total registered investment capital after adjustment and capital contribution to buy, buy shares, capital contribution reached above 19.2 billion USD.
However, according to a survey and assessment of the Provincial Institute for Socio-Economic Development, the business environment of Bac Ninh also reveals the limitations such as: The ability of provincial leaders in subordinates to implement reform initiatives are not thoroughly; Transparency factors based on limited information technology and electronic governance are limited; Interoperability between businesses and departments, departments, sectors and districts is low; A part of staff has not yet adapted to the requirements of improving the business environment and efficiency of public administration; difficulties appear in management of investment, construction, land ...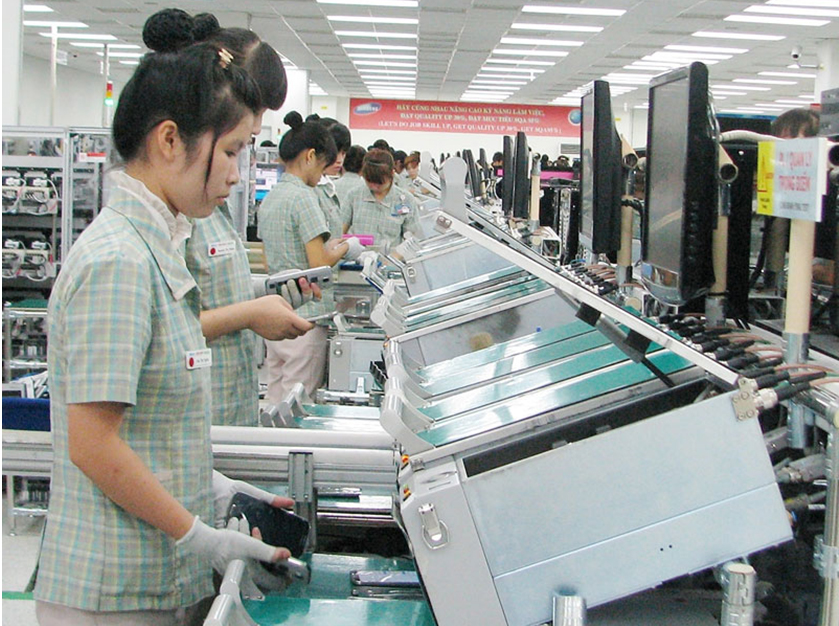 Bac Ninh continues to be a bright spot in FDI attraction.
In the photo: Made at Samsung Electronics Vietnam Co., Ltd. (Yen Phong Industrial Park) in 2019.
Dr. Nguyen Phuong Bac, Director of the Provincial Institute for Socio-Economic Development, said: "In general, Bac Ninh's PCI Index shows recognized efforts, reform trend is a claim. Questions need to be, continuously, the initiatives should be maintained and supplemented towards the goal of attracting investment and developing enterprises. In the coming time, it is necessary to promote reform initiatives at the department, sector and district levels; synchronously implemented measures to improve the investment and business environment, and to support businesses, continued to effectively implement the Government's Resolution No. 02/NQ-CP, in association with the good implementation of Directive No. 10/CT-TTg dated 22-4-2019 on effectively handling and preventing harassment, causing troubles to people and businesses in solving work ".
At the same time, the province should continue to do well the administrative reform associated with improving the performance of the public administrative centers at the provincial, district, and communal level towards the satisfaction of the people. To promote the application of information technology, support small and medium enterprises, dialogue with enterprises, transparency of general information on planning databases and policies for people and businesses to access.
The Departments of Planning and Investment, Construction, Natural Resources and Environment, Industry and Trade, and the Industrial Zones Authority have established a permanent Task Force to be handled manually by the Directors of relevant units and departments. investment, construction, land, environment ... to: monitor and solve business problems; reduce inspection, check; issue new policies to support enterprises to enter the market, such as business registration and related activities.
In the trend of economic development in Bac Ninh, investment and number of enterprises increase rapidly, large-scale economy, large administrative transactions, towards urban economic development and 2020 there will be new pressure. economic development in the context of COVID-19 epidemic prevention. Since then, the improvement of the PCI Index is more and more necessary and has become a permanent "pressure" that needs to be met by all levels and industries to promote new initiatives in improving the business environment. supporting businesses to overcome difficulties, accessing the most favorable support packages, so that Bac Ninh will continue to be "a model" of a dynamic locality in socio-economic development./.
Source: bacninh.gov.vn Translated by Nguyen Mai Huong, Chief of Office, Bacninh IZA