Enterprises with difficulties in orders, how will Tet bonus in 2023?
08:41 31/12/2022
The Tet bonus in 2023, popularly forecasted by experts, is still one month's salary, hardly any changes compared to other years. For difficult businesses, getting a Tet bonus will be a great effort…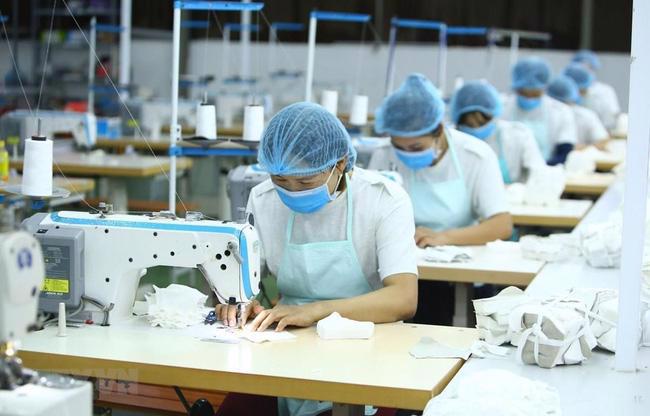 Illustration picture.
When the end of the year is getting closer, the story of how much Tet bonus is always a matter of concern to many workers. According to experts' forecasts, in the context of a disturbed labor market, the Tet bonus will be a great effort of businesses.
EFFORT FOR TET REWARDS
Textile and garment is one of the industries that was greatly affected by the decline in orders at the end of the year, according to statistics of the Vietnam General Confederation of Labor. For that reason, Ms. Hoang Thi Thu Hong, Vice President of Hanoi Textile and Garment Industry Union, admitted that, under the impact of the world economy, businesses with reduced orders should forecast the Tet bonus of businesses. This year's textile and garment will be very difficult, so it is not possible to claim a high income or bonus.
"For tradkitional and large textile and garment enterprises, they will try to keep the Tet bonus equal to last year to retain workers, but is a great effort for difficult units that only ensure no salary debt in the current context. ", Ms. Hong informed.
In order to support difficult workers, Vice Chairman of Hanoi Textile and Garment Union said that in the immediate future, the Hanoi City Labor Confederation has a care plan, under which the maximum direct support level will be given to 10% of employees. The Hanoi Textile and Garment Union has about 20,000 employees, so 2,000 workers will receive support.
However, with limited support from the superior trade union, the Hanoi Textile and Garment Industry Union will also direct the grassroots trade unions based on the source of the unit to provide additional support such as organizing bus trips which bring workers home to celebrate Tet for free. Currently, this unit is estimating the needs of workers, depending on the holiday schedule of businesses, it is expected to organize 3 main bus routes to bring workers from Thanh Hoa, Nghe An and Ha Tinh provinces to their hometown.
Difficulty in orders is also a fact happening at this business, shared by Mr. Nguyen Hoang Long, Chairman of the Trade Union of Matsuo Industries Vietnam Co., Ltd. According to Mr. Long, the orders are still running smoothly but the output is only about 70-80% compared to before, so the company is expected to give Tet bonus about 1.5 months' salary to employees.
Meanwhile, Mr. Cheng Ming Chun - Senior Manager of Inventec Appliances Vietnam Company in Quang Minh Industrial Park, Me Linh, Hanoi - said that, this year, the parent company will give Tet bonus to employees an amount of from 1 to 10 month salary depending on position and job completion results.
However, for the Vietnamese market, because it has just come into operation from 2022, the production and business situation is not really stable, so it is expected that the bonus will be from 1-3 months' salary based on the salary of the employees (10-30 million dong for management positions), in addition, the company will have a quarterly bonus scheme for excellent employees.
POPULAR TET BONUS CAN BE ONE MONTH SALARY
In the context that many businesses have had to cut orders and lack production materials at the end of this year, former Deputy Minister of Labor, War Invalids and Social Affairs Pham Minh Huan predicted that Tet bonuses may be more difficult. However, businesses will still try to pull together to have Tet bonuses for employees with at least 1 month's basic salary, while companies in other industries, the Tet bonus is still the same as every year.
For businesses that are too difficult and have to let employees quit, Mr. Huan said that the authorities need to sit together, based on the actual survey results to discuss more supportive policies for labor.
Mr. Le Quang Trung, former Deputy Director of the Employment Department (Ministry of Labor, War Invalids and Social Affairs) acknowledged that most businesses are interested and want have a worthy bonus to motivate employees at the end of the year. Mr. Trung forecasts that this year the Tet bonus may be higher than last year. Because, besides businesses with difficulties in orders, there are still businesses and groups of industries that develop and have higher profits, so the Tet bonus will certainly be higher than the previous year.
According to Mr. Trung, the year-end bonus is very humane because it supports both materially and spiritually for employees, but depending on actual conditions, each business will have an appropriate bonus.
Mr. Le Dinh Quang, Deputy Head of the Legal Policy Department, General Confederation of Labor - Vietnam also admitted, when the Spring Festival comes, the problem that is always concerned by employees is the Tet bonus. However, the Tet bonus also depends greatly on the production and business efficiency of the enterprise and the level of work completion of the employees.
Although the law does not stipulate that Tet bonus is compulsory, it has become a culture for many years, showing the responsibility of businesses to employees. Therefore, most businesses have prepared Tet bonuses.
"Like every year, I see that this year, the sense of responsibility of employees in preparing Tet bonuses has come into order. Most businesses will still maintain at least the 13th month of salary, even many businesses have included this content in their labor agreements and internal regulations. However, at the present time, there are a number of businesses that are facing difficulties due to reduced orders, they can no longer secure jobs and money to pay salaries. Therefore, it will certainly be difficult to reward Tet," Quang said.
However, according to Mr. Quang, statistics of trade unions shows that so far only about over 1,000 businesses has been affected. The good news is that now some large enterprises are also accompanying the business community to help create jobs, even have certain supportive amounts to ensure that all employees have a warm and peaceful Tet reunion.
Before concerns about difficulties in salary and bonus, there will be a risk of giving rise to labor disputes, Quang admitted that at the end of the year, there are likely to be unstable problems in labor relations related to debt enterprises. Unsatisfactory salary and bonus regime.
Before concerns about difficulties in salary and bonus, there will be a risk of giving rise to labor disputes, Mr. Quang admitted that at the end of the year, there are likely to be unstable problems in labor relations related to salary debt enterprises and unsatisfactory bonus regime.
Facing that situation, the trade union has directed the grassroots trade unions to strengthen supervision and grasp the situation of Tet bonus, salary payment and other policies of enterprises to avoid the situation that enterprises owe salaries.
In addition, the trade union will also actively participate in the development of bonus regulations for employees. "The law stipulates that bonuses are awarded to employees by the employer, but the bonus must be established by regulations and publicly announced to employees. The Tet bonus is also to encourage employees, how the bonus becomes a motivation for them to work better and stick with the business for a long time," emphasized Mr. Le Dinh Quang./.
Translated by Nguyen Mai Huong