The income is not enough for life, it is difficult for workers to "hold on" when they lose their jobs
08:40 31/12/2022
Nearly 60% of workers do not have any savings, so if they lose their jobs, they can hardly hold on, even if "last week, they lost their jobs, the next week they couldn't stand it", according to the survey of Vietnam General Confederation of Labor...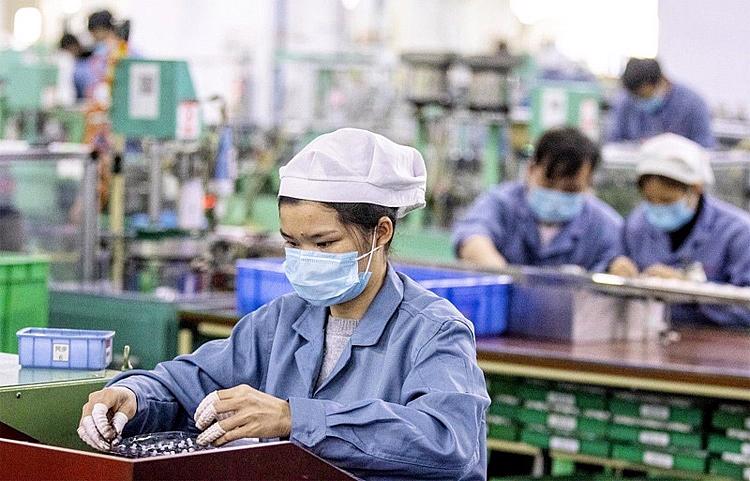 Illustration picture.
At the seminar on labor situation when the business was cut orders organized in the afternoon of December 8, Director General of the Trade Union Vu Minh Tien said that the survey was carried out in November with over 6,200 workers in all three regions.
ABOUT 500,000 EMPLOYEES AFFECTED TO WORK
Information on the life and employment situation of workers in the current context, Mr. Vu Minh Tien, director of the Institute of Workers and Trade Unions (Vietnam General Confederation of Labor), said that according to incomplete statistics from the grassroots trade union, as of December 7, there were about 500,000 workers whose jobs were affected, of which 42,000 lost their jobs.
Notably, out of the total number of employees affected, there are about 31,000 female workers over 35 years old; 10,000 female workers are pregnant or raising small children.
The Institute of Workers and Trade Unions conducted a survey on the life and income of workers in October and November 2022 with more than 6,200 workers. As a result, Mr. Tien informed that in case if they lose their jobs, only 11.7% of workers can hold on for less than a month; 16.7% can be maintained for 1-3 months and 12.7% can be maintained for more than 3 months.
The survey also shows that 42% of workers are not at home; 54% have no residential land; especially, up to 59% of employees do not have any savings; 11.7% have accumulated but only maintained for less than 1 month, 16.7% have accumulated, maintained for 1-3 months; only 12.7% have accumulated, can last for more than 3 months.
"Workers just lost their jobs last week, and couldn't hold back this week, that's very tragic. In addition, up to 38% of workers are in debt, of which 14% have difficulty in paying their debts on time, "said Mr. Tien.
EMPLOYEE'S INCOME HAS REDUCED STRONGLY
Not only difficulties in finding jobs, employees also have to face the situation of job relaxation and reduction of working hours, causing a sharp decrease in workers' incomes. Mr. Nhac Van Linh, Deputy Director of the Institute of Workers and Trade Unions added that the survey results of this unit recorded a significant decrease in working hours of workers in most occupations in the industrial park. Accordingly, the normal working time of employees is reduced to 7.25 hours per day instead of 8 hours as prescribed and without overtime.
Regarding income, if the data of the General Statistics Office in the third quarter of 2022, the average income of employees is about 6.7 million dong/person, the survey of this unit in October and November reduced to only 5.9 million dong/person.
However, Mr. Linh emphasized that it is important that the income and expenditure of workers reflect their inadequate living income. "The total income we surveyed when adding the salaries and allowances of employees is about 8.74 million VND/month, but the expenditure that employees have to spend on living a month is about 10.3 million VND. That is, the income level is only 84% of the expenditure level. This reflects that the life of workers is extremely difficult", Mr. Linh cited.
Difficulties in employment and income make 18% of employees ever or intend to withdraw social insurance once.
The decrease in overtime hours of workers is also confirmed by Mr. Nguyen Dinh Thang, Vice Chairman of the Trade Union of Industrial Parks and Export Processing Zones in Hanoi, which is happening at businesses in the area, even Mr. that, in fact, the cumulative level of workers may be much lower than the data surveyed.
For example, in Hanoi, at this time of the previous years, workers often had to work overtime to ensure orders, but now the overtime is no longer available. As a result, the income of workers decreased, not reaching the level of 8-9 million VND as in the time of overtime.
Reduced income, plus the effects of the Covid-19 pandemic, especially after paying through 4 rounds of social distancing to prevent the epidemic, Mr. Thang said that Hanoi has had a shift of laborers to their hometown. A survey by Hanoi's trade union recorded the status of workers in hostels who had checked out of their hometowns. According to Mr. Thang, although the income level in the region may be lower, in return, workers have to pay lower costs and rent is also cheaper.
Faced with the above facts, in order to support workers in the context of reduced employment and income, Mr. Thang suggested that it is necessary to strengthen solutions to control prices, to prevent inflation from rising, especially in the face of high inflation, especially to essential goods for workers.
Other solutions also mentioned by Vice Chairman of the Trade Union of Industrial Parks and Export Processing Zones of Hanoi, such as: to strengthen the inspection and examination of labor laws at enterprises to ensure the rights of workers.
For the Government, it is recommended to continue to have policies to support training and retraining to improve vocational skills for workers. Along with that, continueing to implement issued policies such as tax reduction, tax extension, interest rate support, and loans to help businesses maintain operations, thereby creating jobs for employees....
Translated by Nguyen Mai Huong