Bac Ninh ranks 7th in the country in terms of PCI in 2021
08:15 09/05/2022
According to the Provincial Competitiveness Index (PCI) ranking in 2021, Bac Ninh province ranks 7th out of 63 provinces and cities with 69.45 points, up 3 places and up 2.71 points compared to 2020, Bac Ninh was in the group of provinces with good quality.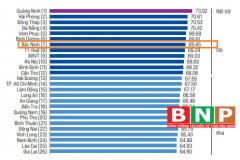 PCI Index Rankings 2021.
For the sub-indicators, Bac Ninh province has 06 indexes that have increased points compared to 2020: Land access index increased by 0.07 points; Transparency index increased by 1.05 points; Time cost index increased by 0.05 points; Dynamic index increased by 0.72 points; Business support services index increased by 0.52 points; Legal institutions index increased 0.11 points.
Meanwhile, there were 04 indexes that dropped, including: Market entry index decreased 0.51 points; Informal expenses index decreased by 0.42 points; Fair competition index decreased 0.17 points; Labor training index decreased 0.08 points.
According to the PCI Index ranking, Quang Ninh province for the fifth year in a row ranks No. 01 on the PCI rankings with 73.02 points; followed by Hai Phong with 70.61 points and Dong Thap with 70.53 points; Cao Bang province ranked last with 56.29 points.
In the Red River Delta region, Bac Ninh province ranks 4th after Quang Ninh (1st), Hai Phong (2nd) and Vinh Phuc (5th).
This is the 17th year in a row that the Vietnam Chamber of Commerce and Industry (VCCI) has announced the PCI Index to assess and rank the quality of economic governance, the level of convenience and friendliness of the business environment and administrative reform efforts of the governments of provinces and cities in Vietnam, thereby promoting the development of the private economic sector.
The PCI 2021 report is built based on feedback from 11,312 enterprises operating in Vietnam. Of which, 10,127 private enterprises are operating in 63 provinces and cities and 1,185 foreign-invested enterprises are operating in 22 localities.
Translated by Nguyen Thi Xuan