Bac Ninh PCI 2019 moved up the 4th place
11:54 08/07/2020
On May 5, 2020, the Vietnam Chamber of Commerce and Industry (VCCI) cooperated with the United States Agency for International Development (USAID) in Vietnam to hold a Ceremony to announce the Provincial Competitiveness Index (PCI) 2019. Representatives of Bac Ninh Province Mr. Nguyen Huong Giang, Deputy Secretary of the Provincial Party Committee, Chairman of the Provincial People's Committee attended.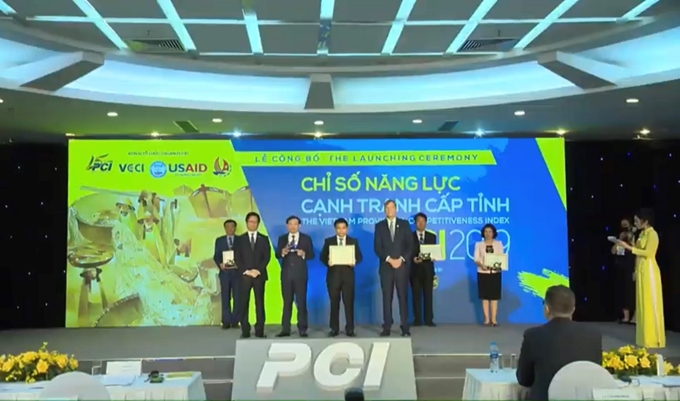 Chairwoman of the Provincial People's Committee Nguyen Huong Giang receives the Anniversary medal.
PCI is a set of indicators developed and published by VCCI in cooperation with USAID to evaluate the ranking of the business environment as well as the quality of economic governance of the provinces and cities in Vietnam starting in 2005. Over 15 The PCI year (conducted a survey of more than 141,000 enterprises, including 125,160 private enterprises and nearly 15,850 foreign-invested enterprises) plays an important role in promoting transparency and accountability in economic performance at the provincial level in Vietnam, facilitating private economic development, thereby promoting Vietnam's competitiveness in the international arena.
The PCI results in 2019 are built on the survey and feedback information of about 12,500 businesses operating in Vietnam (of which over 1,500 foreign-invested enterprises and about 11,000 non-state-owned enterprises in Vietnam). water) shows that the quality of local economic governance has kept the trend and has been improved over time. Some obvious positive changes are the dynamism and creativity of the provincial government, and the clear improvement in resolving difficulties and problems for enterprises. In a more equal business environment, enterprises have more advantages in accessing information and legal institutions while the unofficial cost burden continues to decrease and administrative reform has had positive results.
PCI 2019, Bac Ninh province is in the top group (very good) with 70.79 points, ranked 4th on the Ranking (up 11 places compared to the PCI 2018 Rankings). Quang Ninh province for the third consecutive year is at No. 01 with 73.4 points; followed by Dong Thap with 72.1 points and Vinh Long with 71.3 points.
Specifically, the 10 component indexes of Bac Ninh province have 8 indexes that increase compared to 2018: Legal institutions and security and order reached 7.91 points (up 1.85 points), ranked first. government dynamic reached 7.34 points (up 1.35 points) ranked 5th, Equal competition reached 7.51 points (up 2.21 points) ranked 6th, Unofficial costs reached 7.24 point (up 1.92 points) ranked 6th, Transparency reached 7.02 points (up 1.17 points), ranked 6th, Access to land reached 7.55 points (up 1.16 points), ranked 8th , Time cost reached 7.32 points (up 0.11 points), Business support services reached 6.62 points (up 0.1 points). There are two indexes that have declined including: Entering the market 6.88 (down 0.34 points), Labor training 7.03 points (down 0.66 points).
This is the result of the excellent economic management with many synchronous solutions that Bac Ninh province has drastically directed to implement in recent years, notably the province has built a model of corporate doctors contributing to remove difficulties and create favorable conditions for businesses to develop. Along with that, the transparency of information, promoting administrative reform, minimizing troubles for investors is also highly appreciated by the business community./.
Summary: Nguyen Van Hau; Translated by Nguyen Mai Huong Chief of Office, Bac Ninh IZA